Cadbury's Creme Egg
1971–1996
First manufactured by Fry's in 1963, production of the Creme Egg was passed to Cadbury's in 1971. The wrapper for the egg was originally red, blue and green, although the green was later phased out in the early 1990s.
1996–2003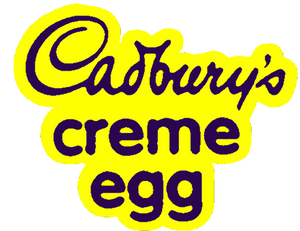 For the first time in 25 years, the Creme Egg was slightly altered with a new, simpler font.
Cadbury Creme Egg
2003–2015
The 2002 Cadbury revamp saw the current packaging introduced. This logo kept the previous colour scheme but edited the font's yellow outline to resemble a splat. This logo was slightly altered in 2015 when the Cadbury swirl logo was replaced with the standard gold version below.
2015–present
Community content is available under
CC-BY-SA
unless otherwise noted.