Cadbury's Double Decker
1976–1987

The Double Decker was introduced in 1976 and originally had raisins in the bottom layer.
1987–2000

In 1987 the wrapper received a complete overhaul, introducing the orange/purple colour scheme still in use today. The lettering was made rounder and in lowercase, while the Cadbury's logo now sitting inside a slanted box.
2000–2003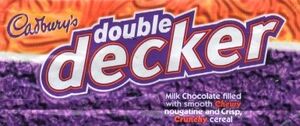 For the new millennium, the wrapper received yet another overhaul. The lettering was now entirely lowercase and was given a large purple outline. The Cadbury's logo was also removed from the box.
Cadbury Double Decker
2003–2009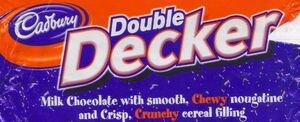 After Cadbury's rebranded to Cadbury during the beginning of 2003, some edits were made to the wrapper again. The font is now entirely capitalised again, and the Cadbury swirl was added.
2009–2016

As Cadbury was phasing out the swirl logo, new branding was introduced, giving the bar its first overhaul in 10 years. The "Double" portion of the name is now in lowercase and the orange/purple design no longer appears textured.
2016–present

In 2016, a slight redesign was introduced, with new fonts for both parts of the logo and the "double" now slightly overlapping in a similar style to the 1987 logo.