This page only shows primary logo variants.
For other related logos and images, see:
Contents

1984–1995
1995–present
2009–present
1984–present
1984–1995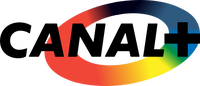 | | |
| --- | --- |
| Typography:  | Futura Canal+ |

| | |
| --- | --- |
| Launched:  | November 4, 1984 |
Canal+ was launched on November 4, 1984, as France's fourth television channel and the world's first nationwide terrestrial pay channel.
The channel's first identity was created by Étienne Robial from On/Off Productions. The original music was created by Philippe Eidel and Arnaud Devos.
1995–present
The original identity remained until 1995 when it was overhauled. The logo was changed as the ellipse was removed. The Canal+ wordmark would now always be contained in a 3 by 12 black rectangle.
The idents were mostly centered around a 6 by 8 grid which filled most of the screen, with rectangles moving around in this grid.
During the 1990s, Canal+ expanded throughout Europe, arriving in Spain (1990), Poland (1994), Benelux and Nordic (1997). The other versions used adapted versions of the French graphics. Many of the assets were sold off in the next decade, and now the Polish version is the only one that still shares its identity with the French channel.
The third set of graphics for Canal+ was launched in 2003. It was an evolution on the previous design, once again focused on rectangle patterns moving around on the screen.
The new-look came to Poland in 2004.[1]
2009–present

A complete redesign of Canal+ was carried out in 2009. The only thing remaining was the logo, although it would now be allowed to leave its black rectangle on-screen. The agency behind the rebrand was Devilfish.
The new look launched across all five channels in France on August 31, 2009.[2][3]
The new idents for all channels feature four screens and at the conclusion of the ident, the plus sign in the logo is placed in the middle. The idents for the main Canal+ channel feature close-ups of various abstractions. The soundtrack for the idents for both Canal+ and Canal+ Décalé was done by Norbert Gilbert.
External links