Contents

2007–2009
2009–2013
2013-2021
2007–2009
2009–2013
All Canal+ channels were given a new look in 2009. UK agency Devilfish were behind the rebrand. The audio for Canal+ Cinéma and Canal+ Family was done by Malcolm Goldie.

In July 2011, new idents were created replacing the older ones. They were also designed by Devilfish.
2013-2021 (France); 2013-present (overseas territories)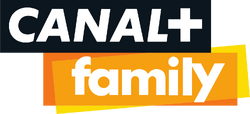 Canal+ Family ceased broadcasting in metropolitan France on August 30, 2021, to be replaced by Canal+ Kids on September 9, 2021. However, it continues to be broadcast in overseas territories.