This page only shows primary logo variants.
For other related logos and images, see:
Contents

1993–1998
1998–2008
2008–present
Canal 21 is the seventh-oldest television channel of El Salvador, founded on March 1, 1993 by Óscar Antonio Safie. The channel is owned by Grupo Megavisión with two sister channels.
1993–1998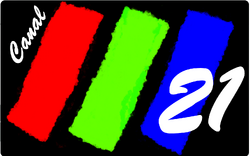 The channel was inspired to the Chilean Megavisión using three diagonal stripes of red, green and blue in the rounded rectangle as a television screen. The word Canal was on the left to three color bars. and the number 21 was on the blue stripe. Sometimes, a number was yellow with a shadow but no "Canal" word.
1998–2008
By 1998 for one decade, the logo was presented using a broken circle, simulating a painting with three colors, as the number 21.
2008–present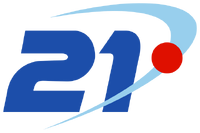 In 2008, Canal 21 launched a new logo retiring the three colors from the two previous logos, and leaving with a blue number 21, a thin light blue crescent with a red circle placed on it.
Television channels
National free-to-air channels
Movie World | Meganoticias 19 | Canal 21
---
Radio stations
Radio Jiboa | Radio Corazón | Radio Megahits | Radio Fuego | Radio La Libertad | Radio Sonomix | Mi Radio | La Sabrosa
---
Other assets
Megavisión Deportes | Megavisión GO
---
TV stations in the Metropolitan Area of San Salvador
---
Defunct stations: