This page only shows primary logo variants.
For other related logos and images, see:
Contents

1958-1966
1966-1969
1969-present
Canal 4 (El Salvador) is the second Salvadoran channel owned by Telecorporación Salvadoreña since 1985. The channel was founded on December 4, 1958 and began broadcasting one month later as YSU-TV operated by Canal Cuatro S.A. de C.V.
YSU-TV (Canal 4)
1958-1966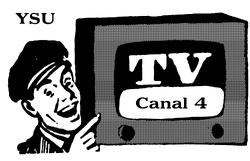 Canal 4 debuted with a mailman who points to the vintage television. The TV screen showed as a hybrid name: The big letters were "TV" and the words "Canal 4" below. Outside of the television, the logo showed the callsign on the top left position.
Canal 4
1966-1969
Canal 4's iconic logo has showed essentially the same since 1966, using a simple eye logo with the number four as a pupil. It is based on the CBS logo to symbolize as a vision of TV spectator. The early version of the iconic logo consists the old television screen with a red color and the realistic eyelid shape, although this logo was in black and white on broadcast TV at the time.
1969-present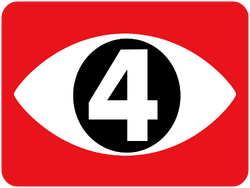 In July 1969, the Canal 4's logo was revised, with a red TV screen changed to a 4:3 square, using four rounded corners. As a result, the previous logo was gradually phased out in 1970. A major reason for this change was television screens innovated to be more quadrilateral on a screen. Also, the current logo became similar to the CBS eye logo, the number four became literally thicker and the iris was slightly bigger, as the eyelid became rounded and more accurate as well.
TV stations in the Metropolitan Area of San Salvador
---
Defunct stations: