This page only shows primary logo variants.
For other related logos and images, see:
Contents

2004-2008
2008-2009
2009-2011
2011-2013
 
2013-2015
2015-2017
April 2017-January 2018, August 2018-present
January-August 2018
Señal Colombia Institucional (Inravisión/RTVC era)
2004-2008
In 2003, all Canal A programming was programmed by Audiovisuales until January 31, 2004 when the state programmer disappeared along with the channel to make way for Canal Institucional. However the channel was managed by Inravisión until the formation of RTVC.
Señal Institucional (First Era)
2008-2009
Institucional
2009-2011
2011-2013
Señal Institucional (Second Era)
2013-2015
Canal Institucional (First Era)
2015-2017
As of July, it is called again "Canal Institucional".
CITV Canal Institucional
April 2017-January 2018, August 2018-present
With this change, the stamp system is divided again into more specific graphic identities for TV channels.
Canal Institucional (second era)
January-August 2018
Television
---
---
---
---
---
Bogotá:

---
Medellín:

TV stations in Colombia (TDT)
Bogotá & Cundinamarca

Medellin & Antioquia


Cali, Valle del Cauca & Chocó


Cauca


Ibagué & Tolima


Northern Santander & Santander


Atlántico, Cesar, Córdoba & Sucre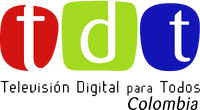 Community content is available under
CC-BY-SA
unless otherwise noted.