This page only shows primary logo variants.
For other related logos and images, see:
Contents

1969
1969-1979
1979-1981
1981-1983
1984-1987
 
1987-1998
1998-2000
2000-2003
2003-2007
2007-2010
 
2010-2012
2012-2015
2015-2017
2017-2019
2019-present
Programmer
1969
When Caracol Televisión was founded in 1969, the logo was used the same as the Caracol Radio logo. This logo was used as a prototype logo.
1969-1979
In 1969, the logo was introduced as a programmer.
1979-1981
In 1979, the entire logo became red.
1981-1983
In 1981, a wordmark was added to the 1969 logo.
1984-1987
In 1984, a snail shell was added to the logo.
1987-1998
Caracol Televisión introduced a new logo in 1987 until July 10, 1998 as a privately-owned TV channel.
Private channel
1998-2003
1998-2000
On July 10, 1998, Caracol Televisión became a privately-owned TV channel. The first logo was introduced on July 10, 1998 and the green sphere was placed in the centre of the logo.   
2000-2003
A modification of the 1998 logo was added the blue sphere with a word "TV", who was used in programming and movies.
2003-2012
2003-2007
In May 2003, after the separation of Caracol Televisión and Caracol Radio for the purchase of Caracol Radio by Prisa, Caracol Televisión presented its new logo once again and the sphere changed from green to blue.
2007-2010
In 2007, the logo starts without the word "Television", it is replaced with the slogan "Más cerca de ti".
2010-2012
In Late 2010, this logo became modern.
2012-2017
2012-2015
In Early 2012, this entire logo became blue and it's 2D.
2015-2017
The 2012 logo was placed inside of a blue circle, and it was introduced in late 2015.
2017-present
2017-2019
In 2017, as part of the rebrand, the 2012 logo was still modified. This logo was used as a corporate logo.
2019-present
In 2019, as part of the rebrand, the 2017 logo was slighly modified, but the word "Televisión" in a different font.
Radio
---
---
---
---
---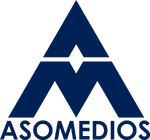 Bogotá:

---
Medellín:

TV stations in Colombia (TDT)
Bogotá & Cundinamarca

Medellin & Antioquia


Cali, Valle del Cauca & Chocó


Cauca


Ibagué & Tolima


Northern Santander & Santander


Atlántico, Cesar, Córdoba & Sucre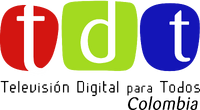 Community content is available under
CC-BY-SA
unless otherwise noted.