Centros Comerciales Sudamericanos S.A., known by its acronym Cencosud, is a multinational retail conglomerate present in various South American countries.
It was founded in 1976 by the German-bosn Chilean businessman Horst Paulmann as Hipermercados Jumbo, S.A., keeping the name until December 2001, when the current brand was adopted.
Hipermercados Jumbo S.A.
1976-2001
See also: Jumbo (Chile).
Cencosud
2001–2011

2011–present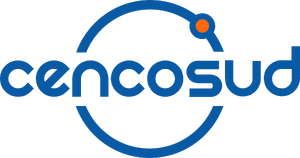 | | |
| --- | --- |
| Typography:  | Rezland (custom) |
In November 2011, Cencosud adopted a new logo designed by IMAX Branding, who previously created the logos of Santa Isabel and Paris.
This logo consisted of a blue circular ring with another small orange circle of blue outline and on top and cutting the logo in two, and the word "cencosud" in a lowercase modified version of the Rezland font.