Centros Comerciales Sudamericanos S.A., known by its acronym Cencosud, is a multinational retail conglomerate present in various countries of South America.
It was founded in 1976 by it current owner, the German-origin Chilean businessman Horst Paulmann as Hipermercados Jumbo, S.A., keeping the name until December 2001, when the current brand was addapted.[1]
2001–2011

Cencosud was first established in 2001, and it first logo were an orange lined paper bag and above, the word "Cencosud" in blue Futura typography with the letter "C" above the bag.
2011–present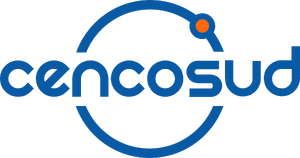 In November 2011, Cencosud completely changed its logo, created by IMAX Branding, who previously created the logos of Santa Isabel and Paris.
This logo consisted of a blue circular ring with another small orange circle of blue outline and on top and cutting the logo in two, the word "cencosud" in lowercase and in Rezland typography modified by the company.
References
Community content is available under
CC-BY-SA
unless otherwise noted.