For the 1970s program called Chespirito from 1971 until 1973, see Los Supergenios de la Mesa Cuadrada.
This page only shows primary logo variants.
For other related logos and images, see:
Chespirito was a series of characters and TV series created and written for the Mexican television network Televisa by Roberto Gómez Bolaños, better known as "Chespirito" (nickname where his program gets its name). It was created in 1980 as a replacement for the independent series El Chavo and La Chicharra (which replaced the independent series of El Chapulín Colorado in 1979).
1980–1981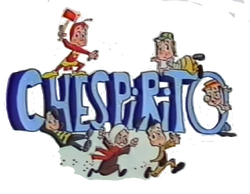 1981–1992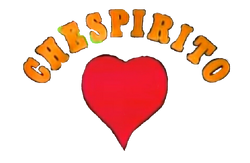 1993–1995

| | | |
| --- | --- | --- |
| | Programs by Roberto Gómez Bolaños | |
1960s
1962: Chucherías
1968: Bartolo | Los Beverly de Peralvillo| Los supergenios de la Mesa Cuadrada
---
1970s
1970: Los Jovenazos | El Rabo Verde | Ensalada de Locos | El Show del "Loco" Valdés
1971: Chespirito | Los Polivoces | Las Aventuras de Capulina
1972: El Show de Alejandro Suárez
1973: El Chavo (Others) | El Chapulín Colorado (Others) | Detective de Hotel | El Comanche
1974: Hogar Dulce Hogar
1975: El Gran Circo de Capulina
1976: Enrique Polivoz | El Show de Eduardo Segundo
1977: Cepillín
1978: Sábado Loco, Loco | Mi Secretaria | La Carabina de Ambrosio | El Mundo de Luis de Alba
1979: La Chicharra | Mis Huéspedes | Odisea Burbujas
---
1980s
1981: ¡¡Cachún Cachún Ra-Ra!!
1982: Chiquilladas
1984: Las Chambas de Paquita | Cosas de Casados
1985: ¿Qué nos Pasa?
1986: Hospital de la Risa
1987: Las Solteras del 2 | Nosotros los Gómez | Papá Soltero | Dr. Cándido Pérez | ¡Anabel!
1988: El Pirrurris Presenta
1989: La Telaraña | La Hora Marcada
---
1990s
1991: Todo de Todo
1992: Al Derecho y al Derbez
1993: Buenas Noticias
1994: Con Humor... al Estilo Chespirito | Aquí está la Chilindrina | Hasta que la Muerte los Separe
1995: La Cuchufleta | Otro Rollo
1997: Hotel Paraiso | ¡Ay María Qué Puntería! | Festival del Humor | Al Ritmo de la Noche | Picardía Mexicana
1998: Al Ritmo de la Risa | Con Ganas | La Güereja y Algo Más | Derbez en Cuando
1999: Humor es... los Comediantes | Cero en Conducta | Va De Nuez en Cuando | Diversión Desconocida
---
2000s
2000: Furcio | La Hora Pico | Toma Libre
2001: Diseñador Ambos Sexos | Güereja de mi Vida
2002: XHDЯBZ | La Familia P.Luche | La Parodia
2003: Permítame Tantito | El Baño | La Jaula | La Casa de la Risa
2004: No Manches | Hospital el Paisa
2005: Bajo el Mismo Techo | Par de Ases | Vecinos | El Privilegio de Mandar | Incógnito
2006: ¡Qué Madre, Tan Padre! | Amor Mío | Wax TV Ácida
2007: ¿Y Ahora qué Hago? | Una Familia de Diez | Fábrica de Risas | Desmadruga2 | RBD, la familia
2009: Humor a Quien Humor Merece | Ellas son... la Alegría del Hogar | María de Todos los Ángeles
---
2010s
2012: Ya Párate ¡El Experimento! | Estrella2 | la CQ
`` 2013: Todo Incluido | Durmiendo con mi Jefe | STANDparados | Turnocturno
2014: La viuda negra
2015: Tiro de gracia
2016: La viuda negra 2
---
2020s