This page only shows primary logo variants.
For other related logos and images, see:
Contents

1971–2008
2006–2008
2008–present
1971–2008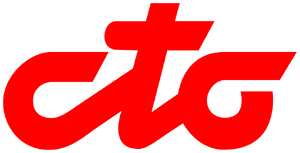 In 1971, Chiba Television launched its network.
2006–present
2006–2008 (Digital)

In 2006, Chiba Television relaunched with a new logo with the name written entirely in katakana and a heart between chi (チ) and ba (バ).
2008–present
In 2008, the logo was revamped slightly with the bi (ビ) removed entirely.