1999–2013 (primary), 2013–present (secondary)
This was the main logo of Cholusat Sur, a channel founded in Tegucigalpa, Honduras. It's name comes from the abbreviation Choluteca (founder's native land), satellite and Sur, which means south, because Choluteca is located in the south coast of Honduras.
2013–present (primary)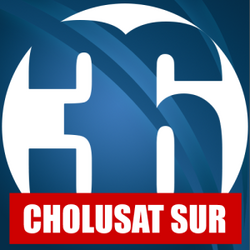 In 2013, Cholusat Sur unveiled a new graphics and logo for the channel, as well with new programming, but kept using the 1999–2013 logo as a secondary one since then.