CiCi's Pizza
1985–2001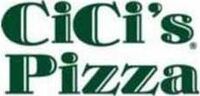 2001–2006
2006–2015
This logo is still seen in stores, and it's still referred to as the original name by fans and on media.
Cicis
2015–2020

On November 4, 2015, CiCi's Pizza changed its name to Cicis and debuted a new logo and brand identity, dropping the apostrophe and changing the second "C" to lowercase. Like Domino's, the word "Pizza" was dropped from the logo, as it's aimed at proving that Cicis has more to offer than just pizza.
Cicis Pizza
2020–present
Cicis secretly went back to its former name, while still keeping the "Cicis" name. Also, the "i"s were modified a bit and there are now six large pizza slices instead of five. Cicis Pizza filed for bankruptcy on January 17, 2021.