Cinemark Theatres
1984–1998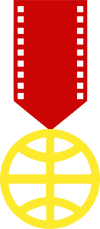 The company was formed in 1984, five years after Cinemark Corporation (one of its predecessors) merged with Texas Cinema Corporation. The company's famous logo was also inherited from the original Cinemark.
Cinemark
1998–2022 (primary); 2022–present (secondary)

In 1998, Cinemark received a major overhaul which caused their entire branding to be changed to a more Art Deco-style cinema brand.
2022–present (United States)

This logo first appeared at a Cinemark location in Waco, TX which opened in 2021. The logo began rolling out on its US locations in 2022.