This page only shows primary logo variants.
For other related logos and images, see:
Famous Players Theatres (Canada)
1936–1987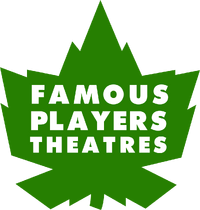 1987–present

Odeon Theatres (Canada)
1941–1978

Cineplex Entertaiment, which was launched in 1999, lays claim to the history of Famous Players, which was founded in 1912 when Adolph Zukor founded the Famous Players Film Corporation, before merging with Canadian N.L. Nathanson's company to form Famous Players-Lasky Corp. In 1941, Odeon Theatres (Canada) was founded. Prior to 1978, it used the same logo as its then-parent company, the British Odeon chain.
Canadian Odeon Theatres
1978–1984
Trailers
In 1978, Odeon was renamed to Canadian Odeon Theatres following a merger with the Canadian Theatres chain.
Cineplex
1978–1984

Cineplex Odeon
1984–1999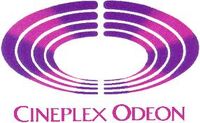 In 1984, Canadian Odeon Theatres is renamed to Cineplex Odeon Corporation following a merger with Cineplex.
Loews Cineplex / Cineplex-Galaxy LP
1999–2009

Trailers
In 1999, there were 6 yellow rings instead of 8 purple rings. At the same time, Cineplex Odeon Corporation merged with Loews forming Loews Cineplex.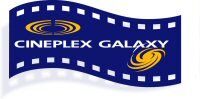 After Loews Cineplex went bankrupt in 2002, Onex acquired the struggling tainted chain in 2004. The American operations were sold off in 2004 and the Canadian Cineplex was combined with Galaxy Entertainment forming Cineplex Galaxy LP.
Cineplex Entertainment
2005–2009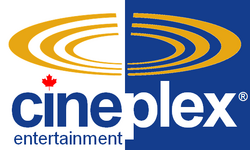 Similar to the 1999 logo, the new logo was created after the sale of Famous Players in 2005.
2009–2015
This logo is based on the 1999 one.
2015–present

Same as the 2009 logo, but colors brightened.
Community content is available under
CC-BY-SA
unless otherwise noted.