1985–1998
1985–1994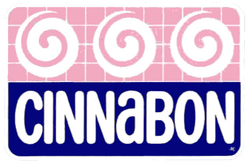 1994–1998
1998–2016

This logo is still used at some locations.
2016–present

This logo was first featured on corporate identify review blog Brand New, but the post was removed at the request of Cinnabon as the new identity hadn't come out at the time.
It was later used on the company's website in 2017 as well as several new Cinnabon locations in the Philippines.