1994-Present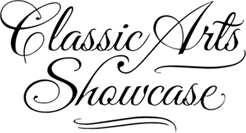 Classic Arts Showcase was launched on May 3, 1994.
It is a 24-hour non-commercial satellite channel broadcasting a mix of various classic arts including animation, architectural art, ballet, chamber, choral music, dance, folk art, museum art, musical theatre, opera, orchestral, recital, solo instrumental, solo vocal, and theatrical play, as well as classic film and archival documentaries.
Community content is available under
CC-BY-SA
unless otherwise noted.