Coca-Cola Zero
2005–2007
Coca-Cola Zero launched in 2005 and is a zero calorie (United States of America)/zero sugar (international) variant of regular Coca-Cola. Unlike Diet Coke, it was aimed primarily towards men and was designed to taste more like the original formula.
2007–2009
2009–2017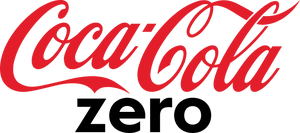 In 2009, Coca-Cola updated the logos and branding of its products. Now each country had the same style of logo which can be seen above.
2015–2017

In 2015, Coca-Cola, with the introduction of the #choosehappiness campaign in select countries in Europe, updated the logos and branding of the Coca-Cola products. The color of the dynamic ribbon was changed to match the logo colour and the Spenserian script was made more prominent on labels. Where Coca-Cola Zero is still in production, this logo continues in use.
Coca-Cola Zero Sugar
2016–2021
The new "One Brand" design was unveiled on April 18, 2016, now the word "Zero" was renamed into "Zero Sugar" and moved from the bottom to the top of the script. As of 2017, this design is currently used on cans and bottles worldwide.
In 2017, Coca-Cola in the UK changed the recipe of Coca-Cola Zero, renaming it Coca-Cola Zero Sugar and giving it a new packaging design.
2021–present
Coke Zero is getting a refresh in new packaging among with a new recipe that is being rolled out worldwide (including the markets where the Coca-Cola No Sugar brand is used). the Zero Sugar wordmark is in TCCC Unity, and the logo is red and black instead of the traditional black and red.