1994–2002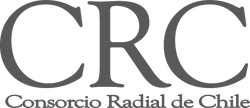 CRC (short of Consorcio Radial de Chile) was launched in 1994 as a joint-venture between radio bussinessmans Cristian Wagner and Carlos Echenique and Caracol Radio of Colombia. The first radio who joined the company was Finíssima, based in La Serena and owned by Cristian Wagner.
In 1997 Radio Caracol was launched. Later, in 1998 Radio Classica joined the group, after being purchased by it. In early 2000 40 Principales was launched, as a joint-venture with PRISA Radio of Spain (then named Grupo Latino de Radio (GLR), who laterly will buy the company.
2002–2008

In December 22, 2006, Unión Radio (parent company of CRC) bought Ibero American Radio Chile from Claxson Chile, who until that day was the main competitor in the nationwide radio FM market share. The operation was approved in August 1, 2007 and both companies completed it fusion in January 2008. CRC nowaday operates under the name Iberoamericana Radio Chile.
| | | |
| --- | --- | --- |
| | Consorcio Radial de Chile | |