D5R is a series for teenagers / children that was broadcast on Ketnet and then on the MNM -Website and Telenet Play. In 2016, the serie took a break, of 2 years.
2014-2016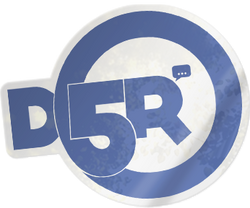 D5R was broadcast on Ketnet from 2014 to 2016. The series then ended with a movie ending.
2018-present
D5R is broadcast on the MNM website, YouTube channel from MNM and on Telenet Play. The 5th season (with this new logo) started on December 10, 2018.