DD Chandana is the Kannada-language channel of Doordarshan, the Indian public TV broadcaster. It was launched in 1994 as DD9 and renamed in 2000 (see footnote). It is named after sandalwood (which is called chandan(a) in many Indian languages), a major produce of the state of Karnataka, where Kannada is spoken.
 1994–2006
2006–2013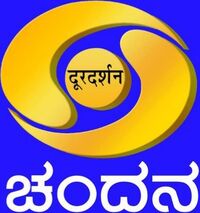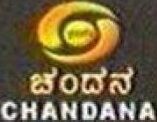 2013–present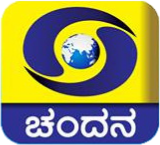 Footnote
In 1994, Doordarshan launched a number of channels in Indian regional languages. They were originally numbered from 1 through 18[1] and renamed in 2000. (Most were renamed to the corresponding language; in the case of DD Podhigai, DD Saptagiri, DD Sahyadri and DD Girnar, they were named after hill ranges in the state where the language is spoken, while DD Chandana was named after sandalwood, a major produce of the state of Karnataka.)
Furthermore, the Kannada movie industry is called Sandalwood, akin to Hollywood and Bollywood.