This page only shows primary logo variants.
For other related logos and images, see:
Contents

1913–1932
1923–1932
1932–1949
1949–1966
The acronym DKW initially meant "Dampf-Kraft-Wagen", because the first products manufactured by the company were small steam (later gasoline) engines; they also started to produce toys afterwards and the meaning of the acronym was changed to "Des Knaben Wunsch". Another version of the name was adapted for motorcycles they had produced: "Deutsche Kleine Wunder". This name has remained over time and has appeared in several promotional texts of the brand around the world.
DKW
1913–1932
In 1921, the brand started producing motorcycles, and automobiles in 1928.
1923–1932
Auto Union
1932–1949
In 1932, DKW teamed up with 3 other car manufacturing companies to form Auto Union.
1949–1966
DKW became defunct in 1966, yet Auto Union continued to be a union of the four brands until 1969.
External links
See also
Auto Union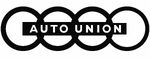 ---
Audi NSU