The Kids Of Degrassi Street (1979-1986)
1979–1986
| | |
| --- | --- |
| | BETTER LOGO NEEDED |
This logo was used for the franchise's progenitor series, The Kids of Degrassi Street, which produced 26 episodes between 1979 and 1986.
Degrassi Junior High (1987-1989)
1987–1989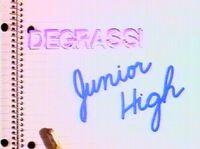 In 1987, the concept behind The Kids of Degrassi Street was reworked as a school-centered drama series, Degrassi Junior High.
Degrassi High (1989-1991; 1992)
1989–1991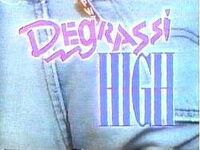 In 1989, the show's concept was retooled as Degrassi High, a high school-centred spinoff largely centering on existing characters held over from Degrassi Junior High.
School's Out (TV movie; 1992)
School's Out (also known as Degrassi: School's Out) was a 1992 made-for-TV movie that was released shortly after the series finale of Degrassi High.
Degrassi: The Next Generation (2001-2010)
2001–2006; 2008–2010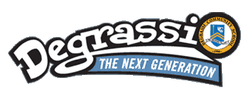 This logo was initially used for the first five seasons of Degrassi: The Next Generation. After being replaced in Season 6 with the logo below, the original TNG logo was reinstated for Season 8, coinciding with the return of the previous title sequence format and lyrical format of its theme song ("Whatever It Takes").
2006–2008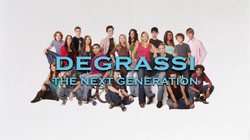 The 2001 insignia logo was replaced by a plain text design for seasons six and seven, coinciding with the replacement of the standard "school tour" title sequence at the start of season six with a sequence incorporating clips from past episodes and an instrumental variant of the version of the theme song that originally debuted in season four.
Degrassi (2010-2015)
2010–2013

The "Next Generation" subtitle and logo nameplate swoosh was dropped for Season 10, following the departures of original cast members Miriam McDonald (Emma Nelson), Cassie Steele (Manuela "Manny" Santos) and Shane Kippel (Gavin "Spinner" Mason) from the series and to signify the show's shift in focus towards newer characters that had begun in Season 8.
2013–2015

A simplified wordmark logo inspired by the 2001 insignia logo was introduced in Season 13. This logo had been in use as a promotional logo since 2011 for on-air promotions aired on Much in Canada and TeenNick in the United States.
Degrassi: Next Class (2016-2017)
2016–2017

Degrassi (2023-present)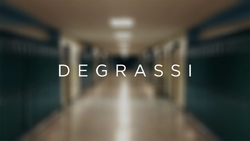 Nickelodeon original live-action series (past and present): Pinwheel | Livewire | You Can't Do That On Television | Standby: Lights!, Camera!, Action! | Mr. Wizard's World | Nick Rocks | Out of Control | Double Dare | Rated K: For Kids By Kids | Don't Just Sit There! | Finders Keepers | Kids Court | Make The Grade | Think Fast | Hey Dude | Wild & Crazy Kids | What Would You Do? | Clarissa Explains It All | Salute Your Shorts | Fifteen | Get the Picture | Welcome Freshmen | Are You Afraid of the Dark? | Roundhouse | Legends of the Hidden Temple | The Adventures of Pete & Pete | Weinerville | My Brother and Me | The Secret World of Alex Mack | All That | U to U | Space Cases | The Mystery Files of Shelby Woo | Kenan & Kel | The Journey of Allen Strange | Figure It Out | Cousin Skeeter | Animorphs | You're On! | The Amanda Show | 100 Deeds for Eddie McDowd | Noah Knows Best | Caitlin's Way | The Brothers Garcia | Taina | The Nick Cannon Show | Romeo! | Drake & Josh | Ned's Declassified School Survival Guide | Unfabulous | Zoey 101 | Just For Kicks | H₂O: Just Add Water| Mr. Meaty | Just Jordan | The Naked Brothers Band | iCarly | Dance on Sunset | Nickelodeon Guts | True Jackson, VP | BrainSurge | The Troop | Big Time Rush | Victorious | House of Anubis | Supah Ninjas | Bucket & Skinner's Epic Adventures | Power Rangers Samurai / Super Samurai | Fred: The Show | How to Rock | You Gotta See This | Marvin Marvin | Wendell & Vinnie | Power Rangers Megaforce / Super Megaforce | AwesomenessTV | Sam & Cat | The Haunted Hathaways | Deadtime Stories | The Thundermans | Every Witch Way | Webheads | Henry Danger | Nicky, Ricky, Dicky & Dawn | React to That | Max & Shred | 100 Things To Do Before High School | Bella and the Bulldogs | Power Rangers Dino Charge / Dino Super Charge | Make It Pop | Talia in the Kitchen | Game Shakers | WITS Academy | Paradise Run | The HALO Effect | All In with Cam Newton | School of Rock | The Other Kingdom | Crashletes | Ride | Jagger Eaton's Mega Life | Hunter Street | The Dude Perfect Show | Lip Sync Battle Shorties | I Am Frankie | Power Rangers Ninja Steel / Super Ninja Steel | Knight Squad | Keep It Spotless | Star Falls | Double Dare (Revival Television Series) | Cousins For Life | Power Rangers: Beast Morphers | The Substitute | Are You Smarter than a 5th Grader? (Revival Television Series) | All That (Revival Television Series) | Are You Afraid of the Dark? miniseries | America's Most Musical Family | Tyler Perry's Young Dylan | Danger Force | Nickelodeon's Group Chat | Unfiltered | Unleashed | Side Hustle | The Astronauts | Tooned In | Drama Club | The Barbarian and the Troll

International series (past and present): Renford Rejects | Genie in the House | Skimo | Summer in Transylvania | Camp Orange | Isa TKM | Sueña Conmigo | Grachi | Julie e os Fantasmas | Miss XV | 11-11: En mi cuadra nada cuadra | Toni, la chef | Yo Soy Franky | Nick Kicks | Food Hunters | Heidi, bienvenida a casa | Vikki RPM | Kally's MashUp | Noobees (Season 2) | Club 57 | That Girl Lay Lay | Warped!

Upcoming Nickelodeon live-action series: Untitled Simon Fuller and Ryan Tedder musical series
---
Nicktoons (past and present): Doug | Rugrats | The Ren & Stimpy Show | Rocko's Modern Life | Aaahh!!! Real Monsters | KaBlam! | Hey Arnold! | The Angry Beavers | CatDog | Oh Yeah! Cartoons | The Wild Thornberrys | Rocket Power | SpongeBob SquarePants | As Told By Ginger | The Fairly OddParents | Invader Zim | Action League NOW! | ChalkZone | The Adventures of Jimmy Neutron: Boy Genius | My Life as a Teenage Robot | All Grown Up! | Danny Phantom | Catscratch | Avatar: The Last Airbender | The X's | Rugrats Pre-School Daze | El Tigre: The Adventures of Manny Rivera | Shorts in a Bunch | Tak and the Power of Juju | Back at the Barnyard | The Penguins of Madagascar | Random! Cartoons | The Mighty B! | Making Fiends | Fanboy & Chum Chum | T.U.F.F. Puppy | Planet Sheen | Winx Club | Kung Fu Panda: Legends of Awesomeness | The Legend of Korra | Robot and Monster | Teenage Mutant Ninja Turtles | Monsters vs. Aliens | Sanjay and Craig | Breadwinners | Harvey Beaks | Pig Goat Banana Cricket | The Loud House | Bunsen Is a Beast | Welcome to the Wayne | Mysticons | The Adventures of Kid Danger | Rise of the Teenage Mutant Ninja Turtles | Pinky Malinky | Middle School Moguls | The Casagrandes | It's Pony | Glitch Techs | Kamp Koral: SpongeBob's Under Years | The Patrick Star Show | Middlemost Post
Non-Viacom cartoons: Martin Mystery | Kappa Mikey | The Secret Show | Wayside | Ricky Sprocket: Showbiz Boy | Edgar & Ellen | Speed Racer: The Next Generation | Rocket Monkeys | Rabbids Invasion | Little Battlers eXperience | Miraculous: Tales of Ladybug and Cat Noir | Get Blake! | Rainbow Butterfly Unicorn Kitty | Lego City Adventures | Lego Jurassic World: Legend of Isla Nublar | Ollie's Pack | The Smurfs
Upcoming Nicktoons: Big Nate | Star Trek: Prodigy | Monster High | Adventures in Wonder Park | Garfield | Phoebe and Her Unicorn | Real Pigeons Fight Crime | Untitled Transformers series
---
TeenNick original series (past and present): Degrassi: Next Class | Gigantic | Open Heart | TeenNick Top 10

---
Original programming (past and present): At the Poocharelli's | Bet the House | Family BrainSurge | Family Face Off: Hollywood | Fatherhood | Glenn Martin, DDS | Hi Honey, I'm Home! | Hi-Jinks | Hollywood Heights | Instant Mom | My Family's Got Guts | On the Television | See Dad Run | The Search for the Funniest Mom in America
---
Nick Jr. original series (past and present): Eureeka's Castle | Tricky Trousers | Max and his Alphabet Adventures | Winky Love | Gullah Gullah Island | Allegra's Window | Little Bear | Countin' Carl | The Wubbulous World of Dr. Seuss | Blue's Clues | Franklin | Maisy | Amby & Dexter | StoryTime | Kipper the Dog | Little Bill | Maggie and the Ferocious Beast | Oswald | Bob the Builder | Max and Ruby | Dora the Explorer | Rubbadubbers | Blue's Room | Peppa Pig | LazyTown | Miss Spider's Sunny Patch Friends | The Backyardigans | Cooking for Kids with Luis | Go, Diego, Go! | Wonder Pets! | Wow! Wow! Wubbzy! | Ni Hao, Kai-Lan | Olivia | Ben & Holly's Little Kingdom | The Fresh Beat Band | Team Umizoomi | Dino Dan | Bubble Guppies | Mia and Me | Mike the Knight | Franklin and Friends | Pocoyo | Tickety Toc | Peter Rabbit | PAW Patrol | Wallykazam | Dora and Friends: Into the City! | Blaze and the Monster Machines | Nick Jr. Rocks | Yo Gabba Gabba! | Lalaloopsy | Zack and Quack | Julius Jr. | Hey Duggee | Mutt & Stuff | Little Charmers | Shimmer and Shine | Fresh Beat Band of Spies | Play Along with Sam | Teletubbies | Miffy's Adventures Big and Small | Rusty Rivets | Digby Dragon | Nella the Princess Knight | Kuu Kuu Harajuku | Regal Academy | Sunny Day | Top Wing | Thomas & Friends | Cleo & Cuquin | Zoofari | Becca's Bunch | Rainbow Rangers | Butterbean's Café | Abby Hatcher, Fuzzly Catcher | Corn & Peg | Ryan's Mystery Playdate | 44 Cats | Ricky Zoom | Trulli Tales | HobbyKids Adventures | Blue's Clues & You! | The Adventures of Paddington | Made by Maddie | Santiago of the Seas | Baby Shark's Big Show! | Deer Squad | The BeatBuds, Let's Jam!
Upcoming Nick Jr.: The Tiny Chef Show
---
Noggin original series (past and present): Phred on Your Head Show | The Whooton Observer | A Walk in Your Shoes | Oobi | Citizen Phoebe | Me in a Box | Big Kids | On the Team | The URL with Phred Show | Sponk! | Play with Me Sesame | Moose and Zee | Jack's Big Music Show | The Upside Down Show | Kinderwood