1993–1997

From their eighth album, Songs of Faith and Devotion (1993).
2001–2005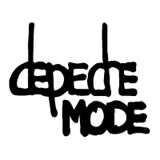 From their tenth album, Exciter (2001).
2005–2009

From their eleventh album, Playing the Angel (2005).
2009–2013
From their twelfth album, Sounds of the Universe (2009).
2013–present
From their thirteenth album, Delta Machine (2013).

Logo used in Delta Machine Tour 2013.
Community content is available under
CC-BY-SA
unless otherwise noted.