Contents

1999–2006
2006–2015
2015–present
Digi Telecommunications is the largest mobile network operator in Malaysia by subscribers, ahead of its competitors Maxis, Celcom and U Mobile. Its largest shareholder is Telenor, the Norwegian telecom conglomerate, which owns a 49% stake in it. It has a sub-brand called tapp aimed at youth subscribers, as well as several MVNO operators.
Unlike other Telenor subsidiaries (except DNA in Finland), Digi does not use Telenor's corporate identity in branding and advertising applications. Nor does its logo have the Telenor logo directly next to the name, though it is present nevertheless.
DiGi
1999-2006

2006–2015
Digi
2015–present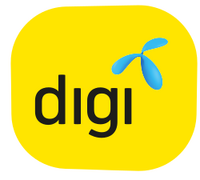 Digi introduced a corporate rebrand in January 2015 with a new logo that kept its traditional yellow-and-blue colours while also adding the Telenor logo to signify the latter's ownership. In general, Digi does not use Telenor's corporate typeface, but rather a font called Tellural.