This page only shows primary logo variants.
For other related logos and images, see:
Contents

1985–1990
1990–1993
1993–2004
2004–2008
 
2008–2011
2011–2015
2015–2016
2016–present
DirecTV is an American direct broadcast satellite service provider based in El Segundo, California and is a subsidiary of AT&T. Its satellite service, launched on June 17, 1994, transmits digital satellite television and audio to households in the United States, Latin America, Americas and the Caribbean.
Its primary competitors are Dish Network, Xfinity and Spectrum. On July 24, 2015, after receiving approval from the United States Federal Communications Commission and United States Department of Justice, AT&T acquired DirecTV in a transaction valued at $67.1 billion.
Hughes Electronics
1985–1990
DirecTV was originally founded in 1985 as Hughes Electronics.
DirecTV
1990–1993
In 1990, Hughes Electronics was renamed as DirecTV. This would be the only DirecTV logo not to use the 1993 "D" design until 2015. The logo was made by Pittard Sullivan, being the agency's first logo.
1993–2004
In 1993, DirecTV introduced its now-iconic "D" logo for the first time. This design would continue to be used in several modified forms until 2015. The logo was used at the company's headquarters in El Segundo, California until July 3, 2013. It's also still in use on some satellite dishs.
2004-2011
2004–2008
On March 16, 2004, the edges of the "D" symbol became rounded, and both sides of it were colored different shades of blue; the wordmark's font was also changed. This logo is still used on some remote models, and some satellite dishs.
2008–2011
On February 27, 2008, the logo was given a three-dimensional effect. However, it did not completely replace the previous two-dimensional logo until 2010.
2011–2015
On April 1, 2011, the logo adopted a more three-dimensional look, and the wordmark's typeface was changed again to be less spaced out. Also, the width of the inside of the "D" symbol was reduced. This logo is also still seen on some satellite dishs.
2015–2016
After AT&T completed its acquisition of DirecTV on July 24, 2015, the "D" symbol was removed, leaving only the wordmark from the previous logo. This was short-lived, only for 1 year.
2016–present
On December 2, 2015, the logo was updated by placing the newly-updated and inverted AT&T globe next to the 2011 DirecTV wordmark, this time in black. It officially debuted on January 1, 2016, only a few months after AT&T first purchased DirecTV.
See also
External links
Fixed-line telecommunications:
---
---
---
---
---
---
---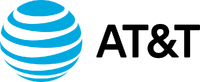 Community content is available under
CC-BY-SA
unless otherwise noted.