2005–2009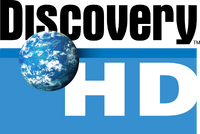 Discovery HD was first launched in Japan and Canada 2005 as Discovery Communications' international HD channel brand. It would roll out to many countries across the world over the following years.
2009–present

This logo was rolled out internationally in 2009, starting in the United Kingdom in February.
After this, the Discovery HD channel brand has taken different paths in different regions. The UK version was replaced by a simulcast of the Discovery Channel in 2011. In many European territories, it was replaced by Discovery Showcase HD in 2010.