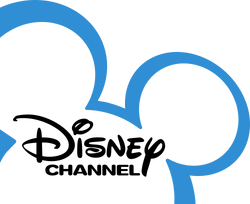 This is the page for the idents and bumpers of Disney Channel Worldwide from 15 March 2003 until September 2011.
Ident Summary
The 2002 idents and bumpers use a single theme: the logo, which is an outline of Mickey Mouse's head shape with the "Disney Channel" text inside it. The bumpers feature 3D backgrounds with various interactive scenes inside the logo. The idents use a similar theme, except it utilizes live-action footage. The idents were created by Razorfish, while the bumpers and graphics were designed by CA Square. The basic Hip idents and bumpers began to be used in the U.S. on October 7, 2002 and in international markets on March 15, 2003. An additional set of more than sixty bumpers premiered in June 2003.
According to Scott Hicks, vice president and managing director of Disney Channel in the Middle East, in a press release, "Our [the network's] new global identity brings our brand positioning to life both visually and emotionally thereby connecting the real world of kids and families to the magical world of Disney."
The Hip design package (which replaced the 1997 Disney Channel on-air look in the U.S.) voiced the channel's kick-start into the new millennium with a message of friendship to the family viewing audience of the 21st century. Moreover, Disney Channel started using a series of celebrity bumpers still in use, featuring live-action or animated characters often drawing the Disney Channel logo using a glow stick.
In 2006, CA Square updated the on-air design by creating program-specific logos, idents, and graphics for most Disney Channel Original programs or Disney Channel animated series during that year. Also, a few more idents are added to the set, which detracted from the original look and now used 3D interactive footage inside the logo and a different logo animation.
On January 2007, Disney Channel kept the 2002 logo, but the Hip look was replaced with new idents and graphics, which feature a ribbon swirling around until it morphs into the logo. On 2010, new mini-idents were produced for specific programs.
Original "Up Next" Bumpers
Original Trailer Endboards
Later Additions
Break Bumpers
Program-specific Logos
Original Set
Break Bumpers
Program-specific Logos
| | | |
| --- | --- | --- |
| | Disney Channel (international)/Bounce and Ribbon Idents and Bumpers | |
Disney Channel International Idents
First Idents (1995-1997) | Red and Blue (1997-1999) | Circles (1999-2003) | Bounce/Ribbon (2003-2011) | Smartphone Logo (2010-2014) | Glass Age Wordmark Logo (2014-2020) | Graffiti Age Wordmark Logo (2017-present, Europe, Middle East and Africa only) | Social Media Age Wordmark Logo (2017-2020, USA, Canada, Latin America, Oceania, Southeast Asia, Hong Kong and Taiwan only) | Item Age Wordmark Logo Idents (2019-present, USA, Canada, Latin America, Southeast Asia and Japan only)
---
Main article: Disney Channel (International)
Community content is available under
CC-BY-SA
unless otherwise noted.