1987–1994
1991–1994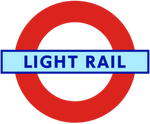 The introduction of new cars in 1991 introduced a secondary logo. It is based on the London Underground roundel. The roundel was used simultaneously with the 'Docklands' logotype.
1994–2004
Coinciding with the opening of the Beckton extension, the DLR introduced a new look and a new logo. The old red, white and blue colour scheme was replaced by a teal and white scheme. The car livery however remained the same only the old logos were removed in favour of the then new logo.
2004–present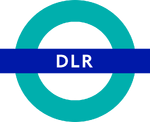 Transport for London began introducing London Underground roundels to all of its transport sectors in the early 2000s. The Docklands Light Railway variation was teal with a blue bar with had the acronym 'DLR' placed in its centre. In 2004, the car livery was changed to all over red with a blue ribbon element with silver doors. New trains were introduced in 2008 which had a teal stripe along the blue ribbon.
Community content is available under
CC-BY-SA
unless otherwise noted.