About.com
1999–2007

| | |
| --- | --- |
| | SVG NEEDED |
2007–2014

| | |
| --- | --- |
| | SVG NEEDED |
2014–2017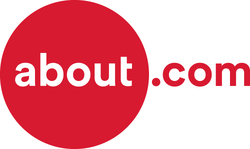 | | |
| --- | --- |
| | SVG NEEDED |
Dotdash
2017–present

| | |
| --- | --- |
| | SVG NEEDED |
On May 2nd 2017, about.com was closed and was replaced by a new umbrella brand called Dotdash (stylised as .dash). The reason for the change in direction was that about.com was losing brand relevance, due to the prevalence of search engines such as Google. IAC CEO Joey Levin said, "Who thinks of About.com? Nobody. We were not growing. In fact, we were kind of shrinking. We had great content, but we were doing the wrong thing."
The name and logo itself both pay homage to the original site; the name Dotdash is secretly morse code spelling the letter "A" (standing for about.com), and the red dot in the new logo references the red ball used in about.com's three logo designs.
Community content is available under
CC-BY-SA
unless otherwise noted.