Contents

2004–2009
2009–2013
2013–present
UKTV People
2004–2009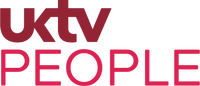 | | |
| --- | --- |
| Typography:  | Home Book UKTV |
UKTV People was launched on March 8, 2004 as a spinoff of UK Horizons, which itself was replaced by UKTV Documentary at the same time.
Blighty
2009–2013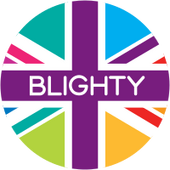 | | |
| --- | --- |
| Launched:  | February 17, 2009 |
In 2009, UKTV's rebrands come to their factual channels. UKTV People was repositioned as a channel about the British identity called Blighty. The channel was launched with the strapline "One nation under a channel" and the programming was based on programmes from a lot of genres that "capture the spirit of contemporary Britain". Blighty launched on February 17, 2009, and was the second UKTV factual channel to rebrand after Eden.
The logo is a multi-coloured Union Jack. Red Bee Media created the new visual identity as well as four idents.
"Drawing on the landscape, heritage, music and sense of humour of all things British, the idents, called Chutney, Rain, Tea and Seaside, are inspiring and eccentric visual mash-ups of live action and still shots. Each ident is a vibrant showcase involving dancing, synchronised movement and animation combined in a kaleidoscopic and fun world. Accompanied by music from Britpop to Opera, the four idents culminate with several helicopters flying in to lower a giant multi-coloured Union Jack flag as the backdrop." - Red Bee Media press release
The channel closed at midday on 5 July 2013, replaced by Drama on 8 July 2013.
Drama
2013–present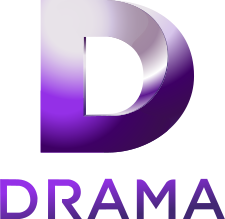 On 2 May 2013, UKTV announced plans for Drama, to launch on 8 July 2013, and available to all British viewers via Freeview. Drama is the first to be unveiled as part of UKTV's thriving portfolio since the introduction of Really in May 2009 and it will be a home for the best British dramas from a range of broadcasters spanning the last 40 years.[2]