E-Plus was a German mobile network operator that operated using its own brand as well as several sub-brands. It was launched in 1992 and acquired by KPN, the Dutch telecommunications company, in 2000.
In July 2013, Telefónica Germany, which operates the O2 brand, announced a planned takeover of the E-Plus Group; the takeover was completed on 1 October 2014, and the E-Plus network was switched off on 1 July 2016, as the O2 brand took over. The merger resulted in O2 becoming the biggest mobile network operator of Germany, overtaking Telekom Deutschland.
Consumer brand
200?–2016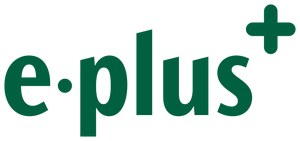 Corporate brand (E-Plus Group)
200?–2014

Parent company: América Móvil (16%)
---
Current operations (Netherlands):
Mobile networks: KPN | MVNOs: Simyo and Ortel Mobile | Internet service providers: KPN Internet
---
Defunct operations: Netherlands: Telfort and XS4ALL | Germany: E-Plus1
Divested operations: Getronics | Belgium: Base2
---
1Acquired by Telefónica.
2Acquired by Telenet.