EE, known from 2010 to 2012 as Everything Everywhere, is the largest mobile network operator in the United Kingdom and the largest European operator of 4G services. It was formed when T-Mobile UK and Orange (UK) merged in 2010. The EE brand, created by Wolff Olins, was launched in 2012; the T-Mobile and Orange brands continued alongside the EE brand for some time before being phased out in 2015.
Everything Everywhere
2010–2012

EE
2012–present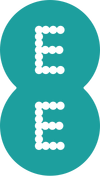 British telecom company BT acquired EE in 2016. EE's original parent companies, Deutsche Telekom and Orange S.A., continue to hold stakes in BT. The acquisition marked BT's re-entry into the mobile network operator market after it spun off O2 in 2001.