This page only shows primary logo variants.
For other related logos and images, see:
Economax is the wholesale supermarket chain (formerly a winery market) owned by Supermercados Peruanos S.A., part of Intercorp.
As cellar market
2011-2012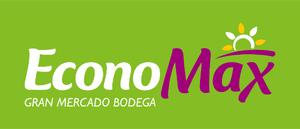 The first Economax logo consisted of the letters "EconoMax" in a lemon green and fuchsia script typeface, below, the slogan "GREAT MARKET WINERY" in italics and above a fuchsia curve line with a sun of lemon green lines with three yellow orange stripes.
Occasionally it appeared on a lemon-green background with the letters "Econo", the sun's point and two of its bank-colored stripes.
This reincarnation closed in 2012 due to its commercial failure.
As cash and carry
2018-present

In 2018, the Economax brand is relaunched, now as a wholesale supermarket and its logo for this new Economax consists of the letters "ECONOMAX" in a bright blue geometric and circular typeface, below, an orange-yellow line and below the latter, the word "SUPERMAYORISTA" in typography similar to Gotham. Occasionally it appears on a bright blue background and with the letters "ECONOMAX" and "SUPERMAYORISTA" in white.
Community content is available under
CC-BY-SA
unless otherwise noted.