Contents

1949–1950
1950–1960s
1960s–1998
1998–present
Editora Primavera
May–July 1950
This article or section lacks a former logo at the moment.
You can help Logopedia by uploading it here.
Editora Primavera was the first name of Editora Abril, used shortly in 1950, when the name was changed to Abril.
Editora Abril
1950–1960s
Editora Abril was established in July 1950, in São Paulo, by the Italian immigrant Victor Civita. The meaning of Abril name (April in Portuguese and Spanish languages) is that is the first full month of the Spring (Primavera in Portuguese, the former name of publisher) in the northern hemisphere. The Abril name also is an tribute to the homonym publisher of the Victor brother, Cesar Civita.
1960s–1998
1998–present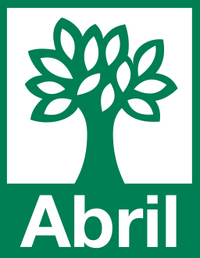 Community content is available under
CC-BY-SA
unless otherwise noted.