El Chavo is a famous mexican TV series made by Televisa in 1972. It is a sitcom that narrates the history of an abandoned 8-year old boy nicknamed "El Chavo", who lives in a neighborhood. It is really famous in Latin America and Brazil, with many episodes and sketches produced until 1992, and being internationally broadcast until July 2020, when Televisa stopped broadcasting it.
El Chavo del Ocho
1972–1973 (sketch of Chespirito), 1973–1975

| | |
| --- | --- |
| Typography:  | Baby Teeth Ajar |
| | |
| --- | --- |
| | BETTER LOGO NEEDED |
El Chavo was originally named "El Chavo del Ocho", because it was broadcast on Channel 8 (current Nu9ve). However, in 1973, El Chavo del Ocho became independent from the Chespirito program (the same with El Chapulín Colorado) and it was moved to Las Estrellas (Channel 2), although the name was retained (since it was already popular) and the famous excuse of El Chavo living on Apartment 8 was created.
El Chavo
1975–1980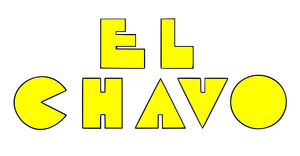 | | |
| --- | --- |
| Typography:  | Baby Teeth Ajar |
In 1975, the word "Del Ocho" was dropped. In January 7th 1980, El Chavo broadcasted its final independent episode, called La Lavadora. A week later, the Chespirito program was reactivated and El Chavo became a sketch of that program.
1980–1992 (sketch of Chespirito)
1980–1981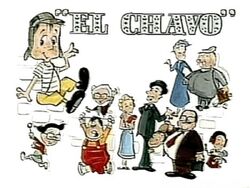 1981–1982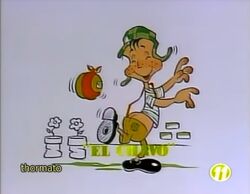 1982–1992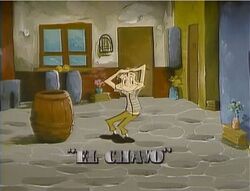 During the Chespirito program era, the various sketches were represented by cartoon-ish illustrations. El Chavo is one of those cases. The final of these cartoons, used since 1982, was animated using classic animation principals. El Chavo ended its entire production on June 12th 1992, with his final sketch being a class about english.
Both the classic series and the 1980s sketches continued to be broadcast worldwide until July 31st 2020, when Televisa prohibited the transmission. The most likely reason is that the broadcasting contract had expired that day, and Grupo Chespirito (owner of the series' rights) couldn't reach an agreement with Televisa to expand the contract, forcing TV stations worldwide to stop broadcasting El Chavo. That information came from Édgar Vivar, one of the actors of the series (he interpreted the Señor Barriga and Ñoño characters), when he gave an interview to the Radio Fórmula.
See also
| | | |
| --- | --- | --- |
| | Programs by Roberto Gómez Bolaños | |
Community content is available under
CC-BY-SA
unless otherwise noted.