El Mercurio de Valparaíso is the oldest continuously circulating newspaper published under the same name in Spanish language.
1827-????
19??-c.1995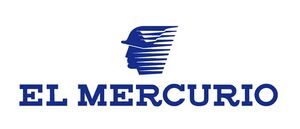 The logotype was used for all Mercurio newspapers. The wordmark was used in the paper's masthead until 1995.
c.1995-2000
The logotype and wordmark reverted back to its original text, but the word "El" was added into the masthead.
2000-2002
2002-2008
"de Valparaiso" was moved from the bottom of the masthead.
2008-2011
The logotype was removed from the paper's masthead.
2011-present
See also
El Mercurio, founded as a separate edition of this newspaper, and currently the main newspaper of the group.
Community content is available under
CC-BY-SA
unless otherwise noted.