This page only shows primary logo variants.
For other related logos and images, see:
Endemol was a Dutch-based media company that produced and distributed multiplatform entertainment content. The company annually produced more than 15,000 hours of programming across scripted and non-scripted genres, including drama, reality TV, comedy, game shows, entertainment, factual and children's programming.
1994–2001
The logo came into use in mid-1994 when Endemol was founded by a merger of television production companies owned by Joop van den Ende and John de Mol, the name deriving from the combination of their surnames.
2001–2016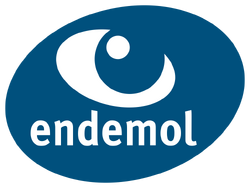 In October 2001, a new logo for the company was introduced; the eye has been surrounded by a blue tilted oval with the "endemol" wordmark appearing below it, which is written in a MetaBold font, in lowercase letters. An alternate variation of the logo was used with the wordmark being removed, while the eye retains.
On 1 January 2015, Endemol merged with Shine Group to form the Endemol Shine Group. The two companies had separate entities on all programmes until all productions were credited to Endemol Shine Group in 2016. As of 2020, Portugal is the only country to continue using the Endemol logo.
Videos
Community content is available under
CC-BY-SA
unless otherwise noted.