Contents

1993–2001
2001–2003
2003–2004
2004–2010
Endemol Southern Star
(also known as
Southern Star Endemol
until 2004) was an Australian television production company made up of a joint venture between Australian production company
Southern Star Group
and its Dutch production company
Endemol
.
Southern Star Concept
1993–2001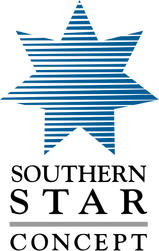 Prior to 2001, Endemol Southern Star was originally called Southern Star Concept.
Southern Star Endemol
2001–2003
As Endemol began its venture with the Southern Star Group, Southern Star Endemol was created in 2000 but they did not start using a logo until 2001. The first logo was known as the Earth and the flying star. Underneath the symbol is "SOUTHERN STAR ENDEMOL", written in a Gill Sans font.
2003–2004
On 27 April 2003 to coincide with the premiere of BB3AU, the new logo was introduced. In doing so, this logo places both Southern Star and Endemol logos side by side but the "southern star" text is written in lowercase letters, to slightly match Endemol's.
Endemol Southern Star
2004–2010
On 23 February 2004, less than a year after using the amalgam of both of its logos, Southern Star Endemol changed its name to Endemol Southern Star with the logos (and names) switching their places. In 2010, the joint company disappeared for good after Endemol bought Southern Star from Fairfax in January 2009. Following this, all productions commonly produced by ESS were credited to Southern Star.
Videos
Community content is available under
CC-BY-SA
unless otherwise noted.