ABC Entertainment
1994–1999
| | |
| --- | --- |
| | LOGO MISSING |
2000–2004
| | |
| --- | --- |
| | LOGO MISSING |
2004–2008
| | |
| --- | --- |
| | LOGO MISSING |
TV5 Entertainment Group
2008–2010
| | |
| --- | --- |
| | LOGO MISSING |
2010–2013
| | |
| --- | --- |
| | LOGO MISSING |
2013–2018

Entertainment5
2018–2019

2019–present

Owner
MediaQuest Holdings Inc. (29.13%) | Upbeam Investments Inc. (28.87%) | Telemedia Business Ventures Inc. (25%) | Med Vision Resources Inc. (16.67%)
---
Parent
PLDT (MediaQuest Holdings Inc.)
---
Divisions:
News5 | Rescue5 | One Sports | Talent5 | Entertainment5
---
Subsidiaries:
Alagang Kapatid Foundation | Media5 | Mediascape/Cignal TV | Nation Broadcasting Corporation | Pilipinas Global Network Ltd. | Kapatid International
---
Entertainment5:
Studio5 | CineMabuhay | Vinyl5 | D5 Studio Originals | Content Cows Company
---
Affiliate and TV Productions
Brightlight Productions | Business World | Cignal Entertainment | CS Studios | Probe Productions | The Philippine Star | PhilPop | PhilStar TV | Straight Shooters | Unitel Group
---
TV Stations:
Regional5
Analog TV Stations:
DWET-TV 5 (Metro Manila, Pampanga, Bulacan, Rizal, Cavite, Laguna) | DWTE-TV 2/DWDI-TV 32 (Ilocos) | DZET-TV 28 (North Central Luzon) | DWBD-TV 44 (Batangas) | DWNA-TV 22 (Bicol) | DYBM-TV 36 (Iloilo) | DYTE-TV 32 (Bacolod) | DYET-TV 21 (Cebu) | DXGB-TV 11 (Zamboanga) | DYTE-TV 21 (Northern Mindanao) | DXET-TV 2 (Davao) | DXER-TV 12 (South Central Mindanao)
Digital TV Stations:
DWET-TV 51/18 (Metro Manila) | DXGB-TV 40 (Zamboanga)
---
Television channels:
Analog/Digital Free-to-air channels:
TV5 (Other) | One Sports (Other)
Satellite channels:
Colours | NBA TV Philippines5 | One News | One PH | One Screen | One Sports+ | PBA Rush3 | Sari-Sari Channel1 | Word Of God Network
International channels:
Kapatid Channel | AksyonTV International
---
Radio networks
Radyo5 News FM
---
Telecommunications and digital media:
Cignal | D5 Studio | SatLite
---
YouTube Channels:
D5 Studio | GG Network | News5Everywhere | One News | OnePH | One Sports | One Sports+ | TV5 Philippines
---
Internet, Web TV and social media:
Cignal Play | GG Network | News5 Digital | News5 Always On | ESPN5.com
---
Inactive:
Catsup | TV4ME Philippines
---
Former News Website and TV Productions
BST Tri-Media Productions/Bitag Media Unlimited | InterAksyon5
---
Defunct:
ABC-47 | AKTV | Weather Information Network/Bloomberg TV Philippines2 | Dream FM Network
1Joint venture with Viva Entertainment.
2Joint venture with Bloomberg L.P..
3Affiliate with Philippine Basketball Association.
4Former joint ventures with PhilStar Global Corporation.
5Partnership with NBA.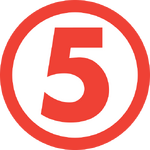 Headquarters:
TV5 Broadcast Complex, 762 Quirino Highway, Novaliches, Quezon City, Philippines (1992-2013)
TV5 Media Center, Reliance corner Sheridan St., Mandaluyong City, Philippines (2013-present)
Community content is available under
CC-BY-SA
unless otherwise noted.