2015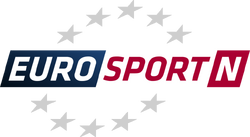 Eurosport Norway was launched in 2015 as Eurosport Norge (Shortened to Eurosport N) on the same day as Eurosport DK (Denmark) launched in Denmark, to replace Eurosport 2 (Scandinavia) in both countries. Eurosport Norge took over the sports segments in Norway for TVNorge and MAX
This was the first time Eurosport launched sports channels dedicated and specific for Scandinavian countries.
Eurosport Norge's channel is owned by Discovery, Inc. and Discovery Norway the same people who owns TVNorge in Norway. It is the reason why the "N" logo looks similar to TVNorge's own logo.
2015-present
Few months after the launched Discovery Inc. decided to modernize and rebrand the Eurosport logo around the world, this included Eurosport Norge and it's sister channel Eurosport Denmark. This logo is similar to its sister network, TVNorge.