After Portugal, represented by Salvador Sobral, won the 2017 edition in Kyiv, Ukraine, it got to host the 2018 edition of the Eurovision Song Contest. It was held at the Altice Arena in Lisbon, with the semi-finals on 8 and 10 May, and the grand final on 12 May.
Netta Barzilai of Israel won the contest with her song "Toy", which made it the first English song since 2015 to win the contest (though some words were sung in Hebrew and Japanese). English songs have predominated at the contest for the past few decades.
Host broadcaster RTP designed the 2018 contest's identity in-house with an aquatic theme and the slogan All Aboard!.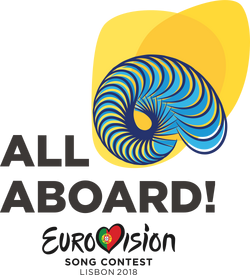 "Europe is a collective of many, and this has also inspired
RTP
's design team to introduce multiple logos for 2018, rather than a single image. The main logo depicting a shell comes with twelve other derivations, which are predicated on the concept of the varying life in the oceans and depict the wonders of a floating world, such as plankton and a range of other organisms which are essential for balance in aquatic ecosystems."
—
Eurovision Press Release[1]
Notes and references
Community content is available under
CC-BY-SA
unless otherwise noted.