The 2020 edition of the Eurovision Song Contest will be held in Rotterdam, the Netherlands, from 12 to 16 May 2020 after the Netherlands won the 2019 contest in Tel Aviv, Israel, represented by Duncan Laurence with his song "Arcade". The event will be co-hosted by NPO, the umbrella public broadcasting organisation in the Netherlands, and two of its members, AVROTROS and NOS.
The Rotterdam Ahoy arena will be the venue of the contest.
May–August 2019 (pre-city selection)
2019
On the 31st of August 2019, Rotterdam beat Maastricht in the bidding process for hosting the contest.
2019-2020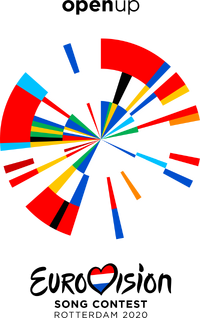 The official artwork for the contest was revealed on 28th November 2019. It was designed by Rotterdam design agency CLEVER°FRANKE, who were chosen out of 11 Dutch design agencies to design the identity of the 2020 contest.
It symbolises the celebration of Eurovision's 65th anniversary with an abstract representation of all 41 participating countries for 2020 in order of the year they debuted at the contest. It also builds on previous designs used by the Netherlands for the 1970, 1976 and 1980 contests.
Footnote
Unusually for the capital of a Eurovision-winning country, Amsterdam had earlier withdrawn from the bidding process, leaving five cities (including Rotterdam and Maastricht) as part of the bidding, of which Rotterdam and Maastricht were the final candidates.
Community content is available under
CC-BY-SA
unless otherwise noted.