FYI TV18 was the Indian version of FYI and the second channel from the joint venture between TV18 and A&E Networks, the first being History TV18. It was a lifestyle channel with a similar positioning as TLC, Fox Life, Travelxp and NDTV Good Times.
The channel was launched on 6 July 2016 and was shut down on 8 July 2020, almost exactly four years after its launch.
2016–2020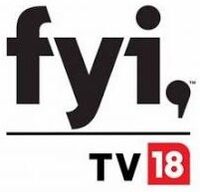 HD logo (2018–2020)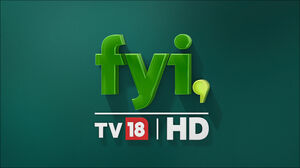 An HD version was soft-launched when FYI TV18 was launched on 6 July 2016, running on selected TV platforms in India, then fully launched on 17 October 2018 and made publicly available on all distribution platforms.
Until the official launch of the HD feed, the SD and soft-launched HD feeds shared the same logo with no distinguishing features between the two.
Part of Reliance Industries Limited (Network18)
---
Subsidiaries: Viacom181 (Viacom18 Studios)
---
News18 network:
National news channels: Hindi: News18 India | English: CNN-News182
Business news channels3: Hindi: CNBC Awaaz | English: CNBC-TV18 HD | Gujarati: CNBC Bajar
Regional news channels: (most acquired from the ETV Network)
Hindi-speaking regions: News18 Punjab/Haryana/Himachal Pradesh, Uttar Pradesh/Uttarakhand, Madhya Pradesh/Chhattisgarh, Bihar/Jharkhand and Rajasthan
Other regional channels: News18 Kannada, Bangla, Odia, Lokmat+ (Marathi), Gujarati, Urdu, Assam/Northeast+ (Assamese), Tamil Nadu+ (Tamil) and Kerala+ (Malayalam)

---
AETN18 network4:
History TV18 HD
Other channels: Topper TV | Shop CJ
---
Defunct channels: FYI TV18 HD
Divested channels: Home Shop 18
---
+Not formerly owned by ETV Network; these channels have always been owned by TV18.
1Joint venture with ViacomCBS.
2Joint venture with Turner Broadcasting System (WarnerMedia).
3Joint venture with NBCUniversal (Comcast).
4Joint venture with A&E Networks.

---