Contents

2009–2012
2012–2016
2016–present
2009–2012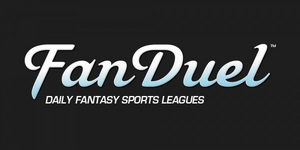 | | |
| --- | --- |
| | SVG NEEDED |
The original FanDuel logo featured a script font with a black background and text with a blue-to-white gradient. The slogan, "Daily Fantasy Sports Leagues," was often featured directly below or to the right of the logo. There are also versions of the logo that do not include the slogan.
2012–2016

In 2012, the fantasy sports website simplified their logo through the removal of the blue gradient. This left only the white text and the black background.
2016–present

| | |
| --- | --- |
| | SVG NEEDED |
On August 1st, 2016, FanDuel rebranded with an entirely new logo and look to their website, app, and brand. The logo above is featured on their website. This one heavily contrasts those of the past, with the text in an entirely new font and capitalized, the bright blue background, and the white shield that precedes the text of the logo.