2014-2015

Parodies the SportsCenter logo.
2015

2016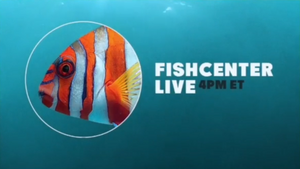 Features the 2015 Galaxy King, a harlequin tuskfish named Mammoth.
2017-2018
Features the 2016 and 2017 Galaxy King, a bird wrasse named Greenbird.
2019; 2020

Features the 2018 Galaxy King, a pinktail triggerfish named Top Xander Cupper. Used again for the series finale in 2020, as TZ2, another pinktail triggerfish, was declared the 2020 Galaxy King.
2020

Features the 2019 Galaxy King, a white-spotted puffer named Th'lump.