Foxtel Go (First era)
2012-2017

Foxtel
2017-2018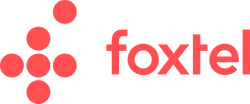 Foxtel Go was simplified into Foxtel clarifying its position as the main service's mobile app aside from the entirely-digital Foxtel Now service. The mobile app would re-use Foxtel's branding.
Foxtel Go (Second era)
2018-present
In August 2018, Foxtel mysteriously reverted their mobile branding back to Foxtel Go, albeit with a new logo.