For other television platforms called Freeview, see Freeview (Australia) and Freeview (New Zealand).
Contents

2002–2006
2006–2015
2015–present
2002–2006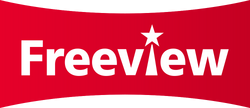 Freeview's first logo was designed by Lambie-Nairn with Abbott Mead Vickers.
2006–2015
A new logo was launched November 2006 along with the campaign "Free TV Land – where great TV is free". The rebrand was done by 999 Design.
2015–present

Freeview rebranded in 2015 to coincide with the launch of its new catchup service, Freeview Play.
On 20 August 2020, Freeview announced that it would phase out their Freeview HD brand in 2022.[2]