This page only shows primary logo variants.
For other related logos and images, see:
Contents

1961–1987
1987–1997
1997–present
1961–1987
1987–1997; 2010–2011, 2017–present (Doritos Throwback)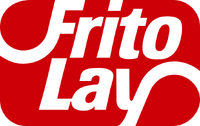 This logo was revived in part of the Doritos Throwback bag.
1997–present
Frito-Lay introduced a new corporate logo in February 1997. It was created by Landor Associates in San Francisco.[1][2]