This page only shows primary logo variants.
For other related logos and images, see:
Fuji Television Network, Inc. (also known as Fuji Television) is a Japanese free-to-air television channel assigned as JOCX-DTV central signal placed in Odaiba, Minato, Tokyo. It is owned by Fuji Media Holdings and is a part of Fujisankei Communications Group.
1957-1986
DESIGNER
Yusaku Kamekura
TYPOGRAPHY
Font co-used by a sister radio broadcaster LF
USAGE
Official
Fuji Television was founded as a TV station in Tokyo on November 18, 1957, and began broadcasting on March 1, 1959, as JOCX-TV. The logo consisted of a number eight as a two gathered eye shape, and its wordmark was written as Japanese name.
1986-present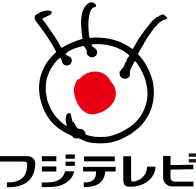 DESIGNER
Yuji Baba (wordmark)
Katsu Yoshida (eye logo)
TYPOGRAPHY
Fujisankei Communications Group font (designed by Baba)
USAGE
Official
In April 1986, the abstract 8-numeral logo was put to bed after 27 years since 1959, and a new logo was introduced though it consists of a stylized eye with a red circle. With this New logo, the station decided to borrow Fujisankei Communications Group's logo and font.
Community content is available under
CC-BY-SA
unless otherwise noted.